Music production workflow is one of the key elements of EDM production. If you aren't getting music finished, then you aren't getting music released.
However, if you find a workflow that works for you, you can build fans, earn money, play gigs, and basically…be a proper music producer, rather than just someone with lots of "great ideas", but nothing to show for it (other than a full hard drive!)…
I received an email earlier this week asking a particular question which I think we all struggle with. In fact, I'd put money on it. Here's what it said:
"I'd say the hardest part of producing for me so far is keeping the same passion and vision on tracks after putting them down."
Bingo. This is a very common problem – and it still happens to me.
The very best way I've managed to overcome this is to make sure I have enough time to complete the vast bulk of an idea when I sit down (i.e. 4 – 8 hours).
Mixing and tweaking a day or two later is fine, but in my experience, you gotta get that idea down in the first session while the vision is fresh in your mind, otherwise it's unlikely you'll capture it again.
However…Inspiration is often an impulsive and unpredictable mistress (all the best ones are!).
She usually strikes when we don't have the time to put together a whole track.
So here are some tips on how you can tame your inspiration and channel her energy.
Workflow Ideas for Capturing (and using) Inspiration:
In an ideal world, we'd have an idea, and it would coincide perfectly with having 8 hours to make it into a full track whilst it's still fresh in our minds.
(These are usually the tracks that seem to "write themselves").
However, you and I know this is rarely happens.
So when you get an idea and you only have a few minutes to jot it down (like, 95% of the time), the first thing to do is…
MANAGE YOUR EXPECTATIONS AND REALISE THIS IS ALL YOU'RE GOING TO BE ABLE TO DO IN THE SHORT SPACE OF TIME YOU HAVE. So don't stress 🙂
Then, here are some steps I – and a LOT of other producers – take to make this easier and useful…
1. Capture the inspiration quickly.
You can hum ideas into your iPhone, or just get them down ASAP into your DAW (a 4 or 8 bar loop).
(Sometimes I might even play them on the piano and record them).
This is for when you literally have anything between 1 and 15 minutes available.
2. Double the session – double the fun.
Split your production time into two types of sessions: Prep sessions and Production sessions. (These are both separate from inspiration capturing).
Prep sessions are when you organise you sample banks, programme synth patches, watch tutorials and create routing templates.
Production sessions are when you actually write, produce, mix and master the music. I try to allow 4 – 8 hours for these (although not always possible).
Having your sounds organised beforehand in a prep session means you can get ideas down quickly into your DAW when inspiration strikes, rather than mucking about too much. It also makes the Production sessions much smoother, as each process uses different parts of the brain.
3. Review the inspiration.
In a prep session, you can also listen to your collection of ideas, and colour tag the files (or prefix the files names with "YES – ", or something like that) for the best ones that still sound good to you. My ideas folders look something like this (the purple circles signify the ideas I really liked when re-listening):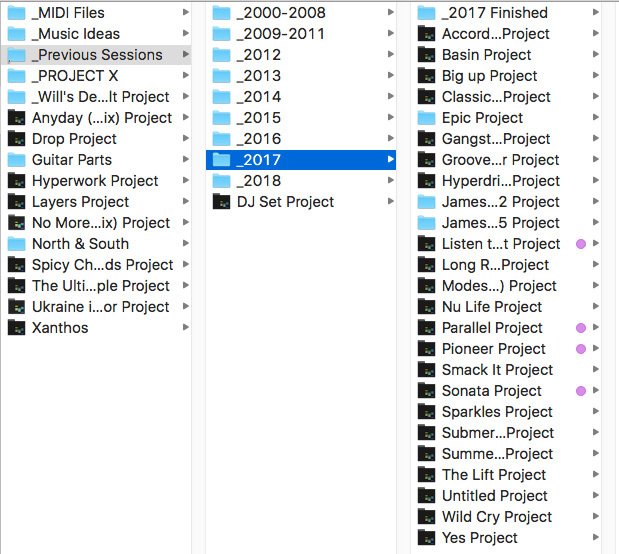 4. Draw upon your ideas.
Then, when lacking inspiration in one of your production sessions (for me, it's probably most of them unless I'm totally stoked), I can listen to my collection of the best ideas I've had, as they're already organised and labelled.
Pick one that sparks your excitement, and focus on that in your session (you can use my Ultimate EDM Speedwriting Cheatsheet to bulk it out and complete it in a 4 – 8 hour session. You can download it for free below this post).
Then mix it on another day with fresh ears.
5. Stick to one track at a time.
What I've also learned is to work on one track 'til it's complete before moving onto the next. This isn't always possible (if I'm collaborating and waiting to get something back from the other guy, for example, or if there's an urgent deadline that crops up), but it's usually possible.
---
Other producers may work differently, but these are some music production workflow techniques that work for me, and I hope they help you too!
Try 'em out, and let me know how you get on in the comments below…
Cheers, and happy producing,
Will